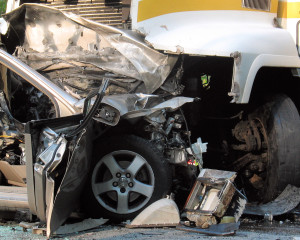 Since 1981, forty years ago at the beginning of the Reagan Administration, minimum liability insurance required for large trucks in interstate commerce has remained unchanged at $750,000. Everything else has gotten more expensive in the past forty years. Nothing costs the same since then–not the truck, the repairs, the gas, or the tolls, so it is completely unrealistic for the truckers to have the same insurance as they did forty years ago.
If adjusted for the general rate of inflation over the past forty years, it would be $2,203,415.84 today. People who are injured by trucking negligence need to pay their medical bills so trucking safety advocates have sought for years to bring some balanced fairness to others on the road. If adjusted to the rate of medical inflation it would be about $5 million. But opponents of advancing public safety on the highways repeatedly have blocked an inflation adjustment on the amount of insurance required.
This year, a 2019 recipient of the "Tradition of Excellence" Award from the State Bar of Georgia General Practice & Trial Section. as a reasonable compromise.