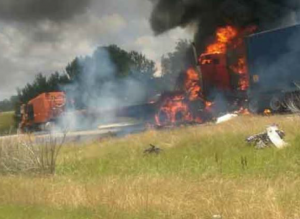 You got a dreaded phone call that a loved one is being transported to a hospital, or worse, after being hit by a tractor trailer, semi, dump truck, or other large commercial vehicle. What do you do?
First, you should be aware that the trucking company and its insurance company have a rapid response team on the scene almost immediately to identify, capture and "massage" evidence. That evidence is time-sensitive. Depending on the sophistication of the law enforcement officers who respond to the crash, critical evidence may be lost while your family member is struggling for her life in the hospital.
We have seen cases in which driver logs were "lost" while police were managing traffic control as the insurer's investigator was crawling around the truck cab. We have seen trucks removed without authorization from police impound and put back on the road, erasing critical electronic data on "hard stops," while the insurance company's lawyer pretended to cooperate in scheduling a joint inspection.