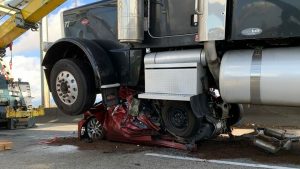 Over decades of representing victims of catastrophic truck crashes and their families, we often have seen fly-by-night truckers hired by larger entities that knew or should have known of the dubious safety records of the truckers they hired. Sometimes we have been able to assert claims against the larger companies for negligent hiring of unsafe truckers.
For several years, insurers for trucking freight brokers have tried relentlessly to use the Federal Aviation Administration Authorization Act (FAAAA) to preempt claims for negligent selection of unsafe motor carriers. The defense position has been that the FAAAA, 49 U.S.C. § 14501(c)(1)) trumps all other state and federal rules authorizing liability of motor carriers, brokers, and freight forwarders. That code section says:
"General rule.—Except as provided in paragraphs (2) and (3), a State, political subdivision of a State, or political authority of 2 or more States may not enact or enforce a law, regulation, or other provision having the force and effect of law related to a price, route, or service of any motor carrier (other than a carrier affiliated with a direct air carrier covered by section 41713(b)(4)) or any motor private carrier, broker, or freight forwarder with respect to the transportation of property."

However, the same section states includes a "safety exception":

(2)Matters not covered.—
Paragraph (1) shall not restrict the safety regulatory authority of a State with respect to motor vehicles, the authority of a State to impose highway route controls or limitations based on the size or weight of the motor vehicle, or the authority of a State to regulate carriers with regard to minimum amounts of financial responsibility relating to insurance requirements and self-insurance authorization.
This statute out of the Airline Deregulation Act of 1978, which was codified in 1994 and recodified in 1995.  Though it was focused on contract and frieght claims, clever defense lawyers sought to expand it to block personal injury claims.
However, preemption of persoanl injury and wrongful death claims arising from truck crashes is based on an overly restrictive construction of what it means to "relate to" a service "with respect to the transportation of property." The connection between the intended scope of the FAAAA on contractual and freight claims and claims for personal injury and wrongful death is too "tenuous, remote, or peripheral" for such preemption to pass the "smell test" of common sense.
In the case of C.H. Robinson v. Miller, a tractor trailer crossed the median on I-80, flipped over, blocked all lanes of travel, and caused a crash that rendered a 30-year-old man quadriplegic for life. C.H. Robinson was a freight broker that placed a load with a "chameleon" motor carrier—a truck company that changes names and applies for a new USDOT number to avoid government fines and insurance premiums. The lawsuit also asserted that the chameleon motor carrier has a history of  serious safety violations,  over 40% of its trucks were found illegally on the road when stopped for random inspections, that they had been cited many times for hours of service violations and false log books, and their percentage of out of service violations is twice that of the national average. All that information was accessible to the broker through the Federal Motor Carrier Safety Administration website.
However, the broker argued that all claims for negligent selection of the trucking company were barred by the FAAAA. A federal district judge in Reno went along with that argument. However, the US Ninth Circuit Court of Appeals agreed with the district court that common law negligence claims against brokers are not preempted because they fall within the FAAAA's "safety exception."
The freight broker petitioned the U.S. Supreme Court to reverse the Ninth Circuit's rejection of the FAAAA defense. Several industry groups filed amicus (friend of the court) briefs supporting the broker's position on FAAAA preemption. This week, the Supreme Court denied that petition. Lawyers for injury victims across the country breathed a sign of relief.
However, this is not a Supreme Court decision on the merits. Lawyers for frieght brokers, trucking companies, insurance companies, and their allies in big business will continue to argue for FAAAA preemption. As we have seen in other, more newsworthy court decisions, eternal vigilance is required to guard against  established rights being taken away by a majority on the U.S. Supreme Court. Eternal vigilance is required to protect future victims of truck crashes.
Kudos to my friend, Rena Leizerman, and Public Citizen for their hard work in beating back the industry claims of preemption. She and her husband, Michael, from Toledo, Ohio, will represent the quadriplegic injury victim at trial in 2023
If you or a loved one has suffered a femur fracture in a truck, car or motorcycle crash in Georgia, contact us online or call us at 404-253-7862.
---
Johnson & Ward has been a leading personal injury and wrongful death specialty law firm in Atlanta since 1949.
Ken Shigley, senior counsel at Johnson & Ward, is a former president of the State Bar of Georgia (2011-12). He was the first Georgia lawyer to earn three board certifications from the National Board of Trial Advocacy (Civil Trial Advocacy, Civil Pretrial Advocacy, and Truck Accident Law). In 2019, he received the Traditions of Excellence Award for lifetime achievement. Mr. Shigley was lead author of  eleven editions of Georgia Law of Torts: Trial Preparation and Practice (Thomson Reuters, 2010-21). He graduated from Furman University and Emory University Law School.