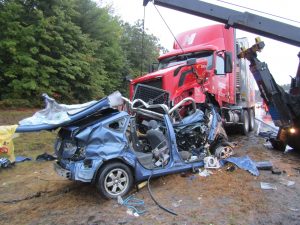 A family member was killed or catastrophically injured in a crash with a big truck. Now it is your responsibility to decide how to proceed. What should you do?
Act quickly. The trucking company and its insurance company may use any delay to "lose" or delete critical evidence. Don't let them do that.
Hire a well-qualified trucking lawyer. Don't just hire a firm with a tv ad or billboard. Much as you want a board-certified surgeon, look for a board-certified truck accident civil trial lawyer. The National Board of Trial Advocacy is authorized by the American Bar Association to run certification programs that include vetting of experience and ethical practice and require tough written examinations. Ken Shigley was the first Georgia lawyer to earn three board certifications from the National Board of Trial Advocacy: Civil Trial Practice(1995), Civil Pretrial Practice (2012), and Truck Accident Law (2019). He is a former President of the State Bar of Georgia, lead author of eleven annual editions of Georgia Law of Torts: Trial Preparation & Practice (Thomson Reuters West, 2010-21), and received the Traditions of Excellence Award for lifetime achievement (2019). Partners John Adkins and Ed Stone are younger, energetic versions of the same.
Authorize your truck accident lawyer to act quickly. While each case is different, some of the first steps an experienced trucking lawyer may take in a catastrophic truck crash case may include:
a. File a petition for temporary restraining order (TRO) in the county where the truck is located while the truck is still in a tow lot or police impound. It is never safe to rely upon the word of a claims adjuster or defense lawyer to schedule a joint inspection. Once we arrived for a joint inspection only to find that the trucking company had sent the truck across the country, erasing critical electronic data of the accident. But in another case, we promptly obtained a TRO just before the courthouse closed for a holiday weekend. This led to a joint inspection with the reconstruction experts for both sides, under supervision of law enforcement, revealing a video recording if the dramatic crash and vital electronic data. It is likely that this evidence would have been lost without the TRO. The result was a settlement for $8 million.
b. Immediately send the trucking company and truck driver a demand for preservation of evidence. Include a list of telematics data, driving hours data, the driver's cell phone for forensic download (including all apps as well as phone connection time), truck maintenance records, and electronic data and video uploaded to other companies.
c. Include in that letter a formal request for pre-suit disclosure of all insurance coverage as required under Georgia law.
d. Hire an experienced accident reconstruction expert. This crucially important expert will download and analyze electronic data from the truck, take a great many forensic photos of the vehicles and scene, get a 3D scan of the accident scene (both ground level and aerial) and vehicles, determine the physics of how the crash occurred, and generate graphic illustrations of the crash. This expert may also work with illustrators to create video and still illustration of the dynamics of the crash.
e. Obtain police reports, photos, and video as soon as they are available. Remember that multiple law enforcement agencies may be involved, and each of them may have separate dashcam and bodycam video recordings.
f. Interview both police and motor carrier enforcement personnel. Important witnesses, they have detailed observations of details that are not included in written reports. Remember multiple law enforcement agencies may respond to a major crash and may possess additional evidence including photos and video.
g. Contact and interview any witnesses listed on police reports.
h. Visit the accident scene and locate any video cameras that may have recorded the incident. Often there are security cameras at businesses and doorbell video cameras At residences. Then contact the businesses or property owners to arrange for download and acquisition of recordings. Canvass the area for any witnesses not listed on police reports. Drive all approaches to the crash scene to observe and photograph any signs, distractions, or visual obstructions.
i. File suit promptly. This may have several advantages.
j. Formal discovery of records and documents with the authority of the court to compel production from recalcitrant defendants.
k. Preserve testimony of key witnesses in video depositions. If a witness later dies or becomes unavailable, the deposition may be used at trial.
l. Start the clock running on a formal offer of settlement. Under Georgia law, if the defense fails to settle within 30 days of an Offer of Settlement and the eventual verdict is over 125% of the amount if the offer, the plaintiff can additionally recover attorney fees after trial. That can be a big number.
m. Key depositions. After production of all the records, take video depositions of the state motor carrier enforcement officer, the truck driver, any co-driver or anyone else who was in the truck, company safety director, designated corporate representative of trucking company.
If you or a loved one have been in a catastrophic crash caused by a large commercial truck, submit our inquiry form or call us now at 404-253-7862.
————-
Johnson & Ward has been a leading personal injury and wrongful death specialty law firm in Atlanta since 1949. The founders of the firm were also among the founders of the Georgia Trial Lawyers Association. Current partners include former presidents of the State Bar of Georgia and the Atlanta Bar Association.
­­­­­­­­­­­­­­­­­­­­______________________________
Ken Shigley, senior counsel at Johnson & Ward, is a former president of the State Bar of Georgia (2011-12). He was the first Georgia lawyer to earn three board certifications from the National Board of Trial Advocacy (Civil Trial Advocacy, Civil Pretrial Advocacy, and Truck Accident Law). In 2019, he received the Traditions of Excellence Award for lifetime achievement. Mr. Shigley was the lead author of eleven editions of Georgia Law of Torts: Trial Preparation and Practice (Thomson Reuters, 2010-21). He graduated from Furman University and Emory University Law School, and completed certificate courses in trial practice, negotiation and mediation at Harvard Law School.