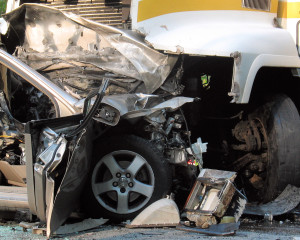 Since 1981, forty years ago at the beginning of the Reagan Administration, minimum liability insurance required for large trucks in interstate commerce has remained unchanged at $750,000. Everything else has gotten more expensive in the past forty years. Nothing costs the same since then–not the truck, the repairs, the gas, or the tolls, so it is completely unrealistic for the truckers to have the same insurance as they did forty years ago.
If adjusted for the general rate of inflation over the past forty years, it would be $2,203,415.84 today. People who are injured by trucking negligence need to pay their medical bills so trucking safety advocates have sought for years to bring some balanced fairness to others on the road. If adjusted to the rate of medical inflation it would be about $5 million. But opponents of advancing public safety on the highways repeatedly have blocked an inflation adjustment on the amount of insurance required.
This year, a 2019 recipient of the "Tradition of Excellence" Award from the State Bar of Georgia General Practice & Trial Section. as a reasonable compromise.
The principal opposition to this inflation adjustment on minimum insurance coverage for large trucks is the Owner-Operator Independent Drivers Association (OOIDA). While portraying itself as the representative of individual truck drivers, OOIDA operates largely as an insurance company. That is a pattern familiar in several national organizations that portray themselves as grassroots groups but are essentially insurance companies.
On June 10, 2021, U.S. House Committee on Transportation and Infrastructure approved a provision of the 2021 Highway Bill to increase the minimum insurance required for interstate motor carriers for the first time in forty years, from $750,000 to $2,000,000, over the opposition of congressmen allied with OOIDA.
The greatest threat of injury and death to truck drivers comes not from smaller vehicles on the highways, but from collisions with other large trucks. We have represented a number of semi-truck drivers over the years who were badly injured when their trucks were struck by other tractor-trailers. It is ironic that OOIDA would oppose the inflation adjustment of insurance that would protect its own members against the greatest threat of injury to themselves.
The legislative process is always difficult. The struggle to update trucking insurance coverage for forty years of inflation is far from over. Those that oppose that update will pull out all the stops in the House Rules Committee and in the Senate to block measures for improved trucking safety and adequate compensation for the victims of large truck crashes.
Call us today at our Atlanta office 404-253-7862 or submit your inquiry online, and find out if we can help.
---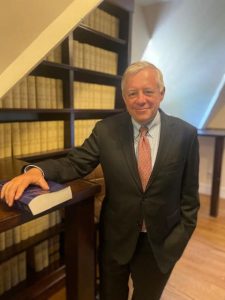 A senior counsel in the firm of Johnson & Ward, Ken Shigley is
Mr. Shigley is the first Georgia lawyer to earn three national board certifications in his practice area from the National Board of Trial Advocacy – in Civil Trial Law, Civil Practice Law. and Truck Accident Law. He is one of only three Georgia lawyers to earn board certification in Truck Accident Law. He has served as a board member of the Academy of Truck Accident Attorneys, and former chair of the American Association for Justice Motor Vehicle Collision, Highway & Premises Liability Section, which includes the Trucking Litigation Group.  He was a 2019 recipient of the "Tradition of Excellence" Award from the State Bar of Georgia General Practice & Trial Section.
He is lead author of Georgia Law of Torts: Trial Preparation and Practice, now in its eleventh annual edition with Thomson Reuters West. His law practice is focused on catastrophic injury and wrongful death including those arising from commercial trucking accidents and those involving brain, neck, back, spinal cord, amputation, and burn injuries. 
In 2011-12, Mr. Shigley was president of the State  Bar of Georgia, which includes all the lawyers and judges in Georgia.  He also is a former chair of the Institute for Legal Education in Georgia (board member 2008-2020, chair 2012-13),  State Bar of Georgia Tort & Insurance Practice Section (1994-95), and the Georgia Insurance Law Institute (1994). A former prosecutor and former insurance defense lawyer, Mr. Shigley is a graduate of Furman University and Emory University Law School. Mr. Shigley is a widower, father of two adult children, and an elder in his church.