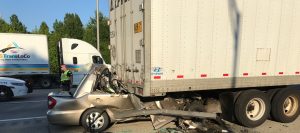 Over decades representing individuals and families devastated by highway crashes with large trucks, one of the most poorly understood hazards we have seen is that of tractor trailers parked on the side of the road. Among the hazards presented by semi trucks parked in the emergency lane is decapitation of people in an approaching car due to trailer underride.
Often late at night on Georgia highways, we see tractor trailers parked on what many people commonly refer to as the "emergency lane" next to the traffic lanes. Unfortunately, many people even in the trucking industry do not appreciate how dangerous this can be for the truck driver and for motoring public.
Stopping on the roadside increases risks of a potential deadly crash, which can be prevented through management practices that include good trip planning, vehicle inspections, and appropriate equipment maintenance.