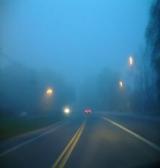 Once again, a tractor trailer making a u-turn in dark or fog on a rural Georgia road has proven fatal. Once again, a turning tractor trailer forms a deadly and virtually invisible fence across a highway.
On September 30th at Lenox, Georgia, a man was killed when he collided with a Scruggs Concrete semi-truck attempting to make a u-turn in the roadway in foggy conditions. He was killed when the collision sheared off the top of his pickup truck.
This is an all too common form of truck crash across the United States, largely due to poor training and management at companies that operate the trucks.
A poorly trained, poorly manged and poorly supervised truck driver might not know better than to make a u-turn in the road at night or in the fog. But the intelligent, trained action is to avoid this. The fundamental duty of any driver is to exercise reasonable care. A lot of things can go into that. For a professional driver of tractor trailers, safety regulations, vehicle size, professional training and industry standards must be considered.
Because of its size — 80,000 pounds (or more for some types) and 48 to 60  feet in combined length — a tractor trailer cannot move quickly from a starting position.   A widely quoted estimate is that it takes 15-30 seconds for an 18-wheeler to execute a u-turn.  During that time, the trailer will have the highway blocked in both directions for roughly 12 seconds.  If the truck driver has difficulty executing the turn in the space available, the truck will block the road even longer.
An approaching motorist, especially at night or in fog, may not have time to perceive, react to, and avoid the tractor-trailer during the time that the highway is blocked. The result, as in this tragic incident, is often that the approaching motorist cannot stop in time to avoid going under the trailer that blocks the road.
The Federal Motor Carrier Safety Regulations include rules on conspicuity (visibility) commercial motor vehicles such as tractor trailers. In general, trailers must meet the conspicuity standards found at FMVSS 108 (49 C.F.R. § 571.108). In a u-turn case, rules about visibility from the side are most significant. These vary slightly between federal and state rules for intrastate operations in some instances, but generally the rules require lights and reflective tape or sheeting to make the trucks visible to other motorists. The reflective material must have alternating red and white colors and be positioned horizontally, beginning and ending and the front and rear ends of the trailer.
Often in cases where a tractor trailer is attempting a u-turn in low light conditions, all an approaching driver sees is headlights in the opposite lane. By the time the driver perceives that a tractor trailer is straddling both sides of the highway, there is too little time to react and avoid a crash.
Conspicuity tape and reflectors are cheap. Going another half mile down the road to a place where a turn can be made safely off the highway is cheap. Lives are precious. Too often companies operating big trucks on the highway fail to weigh those values.
We often see tractor trailers that do not comply with conspicuity standards. In one recent case involving a log truck making a u-turn on a rural Georgia highway in the dark, side lights and reflectors were missing and what little reflective tape was on the trailer was worn and dirty. In sum, it had less than one-third of the conspicuity devices required by even the relatively slack rules governing log trucks in Georgia. With logs extending 20 feet off the rear of the trailer and lights not working properly, it formed a black fence across the highway in the dark.
Georgia Code Section 40-6-121 says, "No vehicle shall be turned so as to proceed in the opposite direction: (1) Upon any curve; (2) Upon the approach to or near the crest of a grade where such vehicle cannot be seen by the driver of another vehicle approaching from either direction; (3) Where such turn cannot be made in safety and without interfering with other traffic; or (4) Where a prohibition is posted." Trucking industry standards go beyond that, taking into account vehicle size and visibility.
Drivers of tractor trailers are professionals who require special training and licensing. Operating vastly larger vehicles than a passenger car or pickup truck, their standard of reasonableness in driving takes into account the type of vehicle they are operating. The basics of that are outlined in the Commercial Drivers License (CDL) manual, which is essentially the same in all states.
Driver manuals from major trucking companies with good safety programs include industry standards higher than the minimum requirements of statutes. Some flatly state that truck driver should never make u-turns in roads under any circumstances. Some command that their drivers never make a left turn on a highway. They should go to the next place they can turn around off the road without blocking the road by making a u-turn.
The concrete industry has a wealth of driver training videos through the National Ready Mixed Concrete Association, covering most any situation that can arise in operation of those specialized vehicles. Every time I have handled a case involving a concrete truck, I have found that there were great training materials that if used would have educated the driver to avoid the hazard. And every time, I have found that the company did not bother to use those training materials. Once a concrete driver, upon seeing the training video for the first time in his deposition, exclaimed, "them [expletive deleted] never showed me that; if I had known, this wouldn't have happened!"
Root cause analysis of these totally preventable and unnecessary crashes usually goes back to corporate management, training and supervision.  If a driver was lost, it is likely because dispatch failed to provide good directions and GPS systems. If the driver was tired, we need to consider whether the company adequately monitored fatigue and hours of service compliance, including the auditing driver logs against available documents to catch log falsification.
The bottom line is that an 18-wheeler driver simply cannot safely make a u-turn on a public road, especially in conditions of reduced visibility. Every time a tractor-trailer driver makes a u-turn in a highway, he creates a clear and present risk of injury or death just to save the time it would take  to go a little way down the road to a place he
could safely change directions. Every company that fails to train its drivers to avoid u-turns has an unspoken policy of endangering the public.
——————
Ken Shigley is a trial attorney practicing statewide in Georgia, focused on serious personal injury and wrongful death cases, especially arising from commercial truck accidents. He is currently chair of the American Association for Justice Motor Vehicle Collision, Highway & Premises Liability Section. Previously he served as president of the State Bar of Georgia and chair of the board of trustees of theInstitute for Continuing Legal Education in Georgia. He is lead author of Georgia Law of Torts: Trial Preparation and Practice and a board certified civil trial attorney of the National Board of Trial Advocacy.  Ken Shigley is a candidate for election to the Georgia Court of Appeals in 2018.