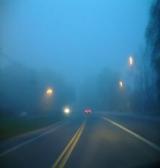 Once again, a tractor trailer making a u-turn in dark or fog on a rural Georgia road has proven fatal. Once again, a turning tractor trailer forms a deadly and virtually invisible fence across a highway.
On September 30th at Lenox, Georgia, a man was killed when he collided with a Scruggs Concrete semi-truck attempting to make a u-turn in the roadway in foggy conditions. He was killed when the collision sheared off the top of his pickup truck.
This is an all too common form of truck crash across the United States, largely due to poor training and management at companies that operate the trucks.