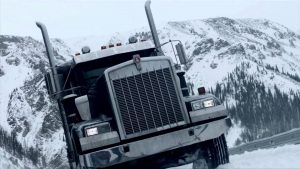 People may enjoy watching "Ice Road Truckers" on television. But there is nothing entertaining about a tractor trailer bearing down upon you at excessive speed, out of control on an icy highway.
A truck driver from Georgia has been charged with three counts of "three charges of grossly negligent driving with death resulting," the Vermont equivalent of vehicular homicide.
Last December 29, Lashawn Jones, 41, of Alpharetta, Georgia, was driving Roehl Transport Inc. tractor trailer on slush and ice on U.S. 4 near the Killington Ski Resort in Vermont. The truck driver lost control on slush and ice and collided head on with a vehicle occupied by three people – Ryszard and Anita Malarczyk from Hastings-on-Hudson, NY, and their friend, Jaroslaw Karczewski from Poland. All three were killed in the crash.