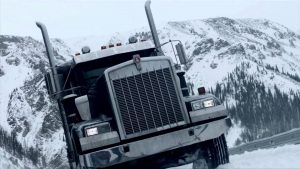 People may enjoy watching "Ice Road Truckers" on television. But there is nothing entertaining about a tractor trailer bearing down upon you at excessive speed, out of control on an icy highway.
A truck driver from Georgia has been charged with three counts of "three charges of grossly negligent driving with death resulting," the Vermont equivalent of vehicular homicide.
Last December 29, Lashawn Jones, 41, of Alpharetta, Georgia, was driving Roehl Transport Inc. tractor trailer on slush and ice on U.S. 4 near the Killington Ski Resort in Vermont. The truck driver lost control on slush and ice and collided head on with a vehicle occupied by three people – Ryszard and Anita Malarczyk from Hastings-on-Hudson, NY, and their friend, Jaroslaw Karczewski from Poland. All three were killed in the crash.
While we don't see a lot of ice and snow in Georgia, when it does happen we see how often truck drivers ignore the Federal Motor Carrier Safety Regulations and the industry standards embodied in the Commercial Drivers License Manual regarding driving on ice. In a major ice storm that paralyzed metro Atlanta a couple of years ago, a Georgia Department of Transportation spokesperson said the next day that all the major problems involved tractor trailers.
Federal Motor Carrier Safety Regulations, 49 C.F.R. §  392.14 provides:
"Extreme caution in the operation of a commercial motor vehicle shall be exercised when hazardous conditions, such as those caused by snow, ice, sleet, fog, mist, rain, dust, or smoke, adversely affect visibility or traction. Speed shall be reduced when such conditions exist. If conditions become sufficiently dangerous, the operation of the commercial motor vehicle shall be discontinued and shall not be resumed until the commercial motor vehicle can be safely operated. Whenever compliance with the foregoing provisions of this rule increases hazard to passengers, the commercial motor vehicle may be operated to the nearest point at which the safety of passengers is assured."
The Model Commercial Drivers License Manual, adopted with only stylistic differences in all states, and  referred to in 49 C.F.R. § 383.131(a)(1),  states the following in Section 2.6.2:
"Slippery Surfaces. It will take longer to stop, and it will be harder to turn without skidding, when the road is slippery. Wet roads can double stopping distance. You must drive slower to be able to stop in the same distance as on a dry road. Reduce speed by about one-third (e.g., slow from 55 to about 35 mph) on a wet road. On packed snow, reduce speed by a half, or more. If the surface is icy, reduce speed to a crawl and stop driving as soon as you can safely do so."
Trucking companies that have insufficient focus on safety fail to train and supervise their drivers to assure compliance with these safety standards. When the inevitable crashes occur, they send their lawyers and "experts" to disingenuously argue that the rules don't mean what they say, that the rules do not apply to them, that is the victims' fault for being on the road in bad weather, and that their drivers did a magnificent job of trying to stop when driving highway speed on ice, etc.
If trucking companies would instruct their drivers to crawl or pull over when road conditions are icy, even if it throws off delivery times, a lot of lives could be saved in America.
Ken Shigley is a  double board certified trial lawyer in Atlanta, Georgia. He has served as president of the State Bar of Georgia, chair of the largest practice area section of the American Association for Justice (Motor Vehicle Collision, Highway & Premises Liability Section), and chair of the Institute for Continuing Legal Education in Georgia board of trustees. He is a member of the Board of Governors of the Academy of Truck Accident Attorneys,lead author of Georgia Law of Torts: Trial Preparation & Practice (2010-2016) and a chapter author of the 2016 edition of Handling Motor Vehicle Accident Cases, both published by Thomson Reuters.  He can be reached at ken.shigley@johnsonward.com.